We're coming at you this Friday with something a little new! Since Pay For Art is all about supporting local artists, we wanted to feature some that are apart of the Pay For Art Team! We're going to call this new segment, 'Feature Fridays' and will come out with a new feature monthly. So, without further ado, we'd like to introduce you to one of our favorite gals, Charlotte (Char) Oden!
Char is a Wilmington local and has been working hard at pursuing her career as an artist. You can find her around town at different markets or teaching classes at the CAM. Lucky for us, we were able to ask her a few questions about her career. Read our interview below!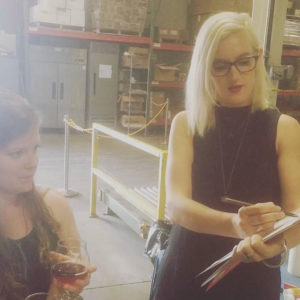 What called you to be an Artist? 
"I've created art my entire life. My Mom was an art teacher when I was little.  She always had an easel set up for me in the house and chalk outside. I spent  a lot of time going through her art supplies… which she did not appreciate."   
Who or what inspired you to pursue a career as an Artist?
"I could never really decide on anything else that I'd like to do. For me it was more about what type of art to work on. I love painting and drawing, but I also like to work with fashion design, photography, and fibers arts and design. It has always been hard to decide what is the most important thing for me to spend my time on."
What is your preferred medium and what have you learned from it? 
"I love working with graphite, ink, and water color probably more than anything else right now. I specialize in mixed media so I'm always combining techniques and using lots of different supplies. Graphite is always a great place to start. I like to scan my sketches early in my process in case they change a ton. That way I still have the option to play around with the image digitally or try another solution traditionally."
What does success mean to you as an Artist?
"Success for me as an Artist is figuring out how to have time to create art that you like and care about while also being able to work creatively and make enough money to survive."
When you're in a creative lull where do you go for inspiration? 
" I like to watch friends and strangers. Sometimes it is fun to sketch in coffee shops but I prefer sketching in public in places where I don't know anyone. That way I can just draw and stare at people and not have to worry about talking to people all the time. I also draw inspiration from music, film, and fashion."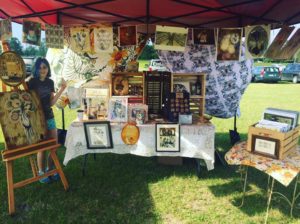 What's your favorite movie? 
"Ghostworld."
What's your favorite dance move?
"Chicken Dance (Arrested Development)."
If you could travel anywhere in the world where would it be?  
"Aix en Provence."
What's your favorite color?
"Yellow Ochre and Amber."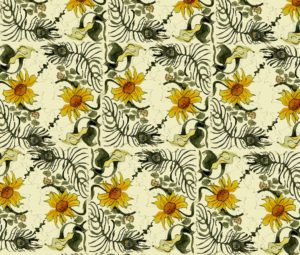 (Sunflower Nouveau)
We can't thank Char enough for taking the time out of her busy schedule to chat with us! Most importantly, go snag some of her amazing pieces! Want to stay in her loop? Follow her social accounts!
Instagram: @charoden
Facebook: Char Oden Illustration
Twitter: @charoden
Website: http://www.charoden.com/
Want to be featured? Shoot us an email at contact@payforart.com